4 oz canned chicken breast
1/3 cup fiesta blend shredded cheese
Salt and pepper to taste
Whole grain or whole wheat bread (no bleached flour)
1 orange or apple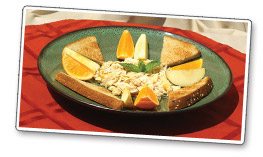 Preparation: Place bread in the toaster. Microwave chickens for 30-45 seconds (add salt and pepper before to microwaving, that will allow the flavor to meld with the food) Then add the cheese and stir thoroughly. While the chicken is in the microwave, cut the apple and or orange (a little cinnamon on the apple is good too). Enjoy.
Approx: calories 420, fat 13.3g, sat fat 6.4g, carb 38g, fiber 5.2g, protein 37.2g
Instead of just toast, you can make a sandwich or pita pocket with some sprouts, avocado, and tomato. Either way it's quick and easy. I usually add a few jalapenos and a little juice from the pepper jar. This is so simple and one of my most commonly eaten meals. This, the buffalo salmon and blackened tilapia are my favorites.
4 oz canned chicken breast
1 table spoon of fat free mayo
1/2 teaspoon of Grill Mates or salt and pepper to taste
1/4 avocado
1 small tomato
Sprouts, spinach, (lettuce provides no nutritional value)
1 whole wheat pita
1 orange or apple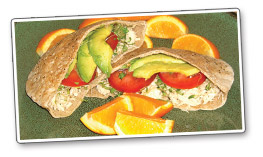 Preparation: Mix chicken, mayo, salt and pepper to taste. Place the chicken mix into each half of the pita. Then add avocado slices, tomato, and sprouts. This is a favorite of a couple I know. I showed them this a few years ago and while making the DVD, they said they prepare this at least once a week. I hope you'll like it too.
Approx: calories 441, fat 11g, sat fat 1.4g, carb 47.2g, fiber 5.1g, protein 31.7g
4 oz canned chicken breast
1 tsp Dijon mustard
2 tbs low sodium soy sauce
1/4 cup dry brown rice
1 pc. low fat string cheese
3/4 cup frozen green beans
Salt and pepper to taste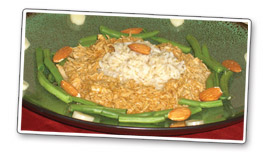 Preparation: Mix mustard and soy sauce, add chicken. Eat with the crackers or heat the chicken and add bits of the string cheese. Run cold water over green beans for a minute (serve cold or heat in microwave for 30 seconds) salt and pepper to taste. This is one of my favorite meals to pack in a lunchbox. The sauce keeps the chicken from drying out. I usually just put a handful of frozen green beans in a storage container (they're thawed by the time I'm ready to eat). This is also good with Kidney beans. They're full of protein and fiber!
Approx: calories 389, fat 5.6g, sat fat 1.9g, carb 43.5g, fiber 3g, protein 36.4g
4 oz Tilapia filet (thawed)
Meals in Minutes fish seasoning
1 egg
1/2 cup cooked long grain brown rice
1/2 cup kidney beans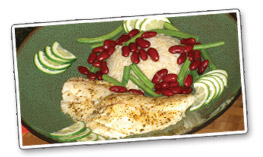 Preparation: If fish is frozen, place in dish and run cold water over it for a couple minutes. While water is running, whip egg, start toast, and prep beans (if frozen, place in separate bowl with water). Dip filet in egg and lightly cover fish with seasoning. Place in med-hot skillet and cover. Should be flipped in about 4 minutes; after that, it should be ready in about a minute. An easy way to tell if it's ready is to press the specula in the center. The filet will cut easily. (After the fish is removed from the pan, I usually fry up the egg too for a little extra protein.) If you don't like or can't eat eggs, place tbs of olive oil on the fish prior to adding the seasoning. If you do that, you don't need oil or spray in the pan. Place the fish, beans, cottage cheese, and toast on the plate and enjoy. Tilapia is an inexpensive good light tasty fish. This recipe is a staple in my diet. Enjoy!
Approx: calories 442, fat 8.5g, sat fat 3.3g, carb 58.4g, fiber 7g, protein 39.1g
4 oz Salmon Filet
1/3 cup Teriyaki sauce
1/2 cup Alfalfa sprouts
1/2 cup Fat free cottage cheese
1 piece of whole wheat toast
Preparation: Put the bread in the toaster. Cut thawed salmon into " cubes. Add Teriyaki sauce, stir and microwave for 60 seconds. Stir and repeat. While salmon is in the microwave, prep your plate with the bed of sprouts, cottage cheese, fruit, and toast. Once the fish is done, pour the bowl over the sprouts. The great thing about the sprouts is they will catch all the little chunks of garlic, sesame, and ginger in the sauce. You'll enjoy every bite.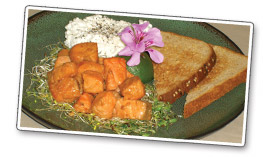 Now please keep in mind, there is more sugar and sodium in this recipe than others. With that said, it's really good.
Approx: calories 442, fat, 9.6g, sat fat .8g, carb 44.6g, fiber 2.4g, protein 41.5g
You can also make the same thing but swap the Teriyaki sauce for the Meal Minutes Buffalo sauce. As stated before, this is one of my absolute favorites!
Approx: calories 362.5, fat 6.6g, sat fat .8g, carb 30.6g, fiber 2.4g, protein 44.5g
4 oz of thawed 21-30 count shrimp
1/2 cup of kidney beans
1/2 cup cooked long grain brown rice
1 tbs. Grill Mates Monterey Seasoning
1/2 banana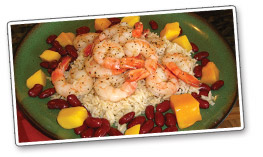 Preparation: Follow the directions and place the rice in the microwave for 90 seconds after cutting the bag open (to vent). Mix shrimp and seasoning. Microwave for 60 seconds, stir and microwave again for 30 to 60 seconds. You want all the shrimp to be uniform in color (no blue spots). Feel free to pull out shrimp that's already done and reheat others. Over cooking the shrimp will make it too chewy. While the rice and shrimp are cooking, run some cold water over the green beans. Once they're thawed, mix in the kidney beans. You can heat this or eat as is. I usually slice up and pan fry the banana. Use a non-stick spray instead of oil to keep fat levels low. If you have to use oil; use 1 and only 1 tablespoon of olive or safflower oil. If you want the shrimp a little spicier, add some cayenne pepper.
Approx: calories 385.5g, fat 3.1g, sat fat .6g, carb 60.1g, fiber 9.3g, protein 33.3g

2 Habanero peppers
1/4 Cup of brown sugar
4 oz. Worcestershire sauce
Preparation: Cut peppers into 1/8" discs. Mix peppers, sugar, Worcestershire in a pan and bring to a low boil for 4 minutes. (WATCH CAREFULLY, MAY BOIL OVER). Add to any meat. It's high in sugar and sodium, so please keep that in mind. I use this for an appetizer or for football parties; usually making it with a low fat turkey hot dog cut into inch discs. It's best to cook the meat in the sauce. But be warned... it's sneaky hot!
2 tablespoons minced ginger
4 clove garlic cup coarsely chopped green onion

Blend above ingredients until finely minced.

Add:
1/2 cup soy sauce
1 cup peanut butter cup sesame oil
1 tablespoon honey
1 tablespoon chili paste
1/4 cup rice wine vinegar
1/2 cup water

1/2 cup fat free plain yogurt
1/4 cup hot sauce (I like Frank's)
1/2 tsp fresh minced garlic (optional)

Preparation: mix thoroughly, eat liberally





2 tbs salt
1 tbs black pepper
3 tsp butter flavored powder
4 tsp chili powder
1 tsp garlic powder
1/2 tsp ground red pepper
1/4 tsp onion powder
1 1/2 tsp ground cumin
1/8 tsp cinnamon

8 oz of fat free milk or water
1 scoop of protein powder
1 teaspoon of raw uncooked oatmeal
1 pk of sugar free
cocoa powder
1/2 frozen banana
1 teaspoon of all natural peanut butter
Dash of cinnamon
When making shakes, some people have trouble digesting them with milk, so if you find your stomach upset after a shake like this, use water instead of milk.
Almost every major manufacturer has vanilla, chocolate, and strawberry. Pick a brand that is low in sugar, carbohydrates, and has around 22g of protein per serving. I usually stick with the vanilla and if in the mood for chocolate, add a packet of "no sugar" cocoa mix. Please feel free to mix things up (literally). Try different combinations fruits, yogurts, and nuts in the shake; just make sure you're adding a scoop of protein powder.
For a good snack, try 2 or 3 pieces of low-fat string cheese, a handful of almonds and either 2 medium apples, 2 oranges or a combination of both. You can also place banana slices onto a couple of wasa crackers with peanut butter (2 tbs or less). Both snacks are quick, easy, and delicious. You'll get protein and good fat and good carbs.
It's much more convenient to make big bowl of brown rice and/or oatmeal and munch on it throughout the week. Follow the directions for the rice, then add - cup of extra water at the end of the boil (or add a cup of Frank's hot sauce with the prescribed amount of water). That will keep the rice moist for about a week. When it comes to oatmeal, as stated on the DVD, I usually add a little flax seed, cinnamon, and splenda. You can heat it up or eat it cold.